Anyone who has seen my art galleries on Renderosity and Cornucopia can tell that my usual genre of art leans toward realism -- either landscapes, equine art, romantic couples etc :-)
But several years ago, when I used to work in Bryce 3D, I found some neat tutorials which showed how to create abstract art in Bryce. I was fascinated and loved the effects they were getting.
Years went by, I went back to my landscapes, started working in DAZ and doing more people, then moved on to Vue d'Esprit and more landscapes.
But I've seen some lovely abstracts recently and wanted to try one of my own.
Even though I have binders of printed tutorials in my home office, I couldn't find the one on abstracts in Bryce. So I did an online search to see if I could find one.
I found several online discussions on the subject and
this tutorial
, by Ending Eternity at DeviantArt turned out to be just what I needed!
The instructions are easy to follow and I really enjoyed playing around with it.
Here's the first abstract artwork I came up with after playing around with the concept for a while:
I was really please with how rich the colors appeared, but by changing the colors of the lights in Bryce, I'll bet I can produce some different effects with the same basic setup.
I think this particular design seems to lend itself to products like iPad cases, laptop sleeves etc. Some examples are shown below.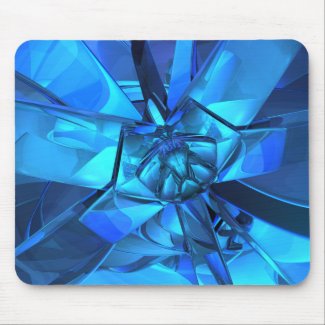 Sapphire Blue Abstract Mouse Pad
by
3DDesignsByJayne
Browse other
Abstract Mousepads
So while my mind was on abstract design, I decided to have a look around Zazzle and see what other artists were producing in this genre. And there certainly is a lot of variety!
Here are some examples:
This iPad case has a "grungy", worn look to it, with faded print and blotched watercolor effects.
In addition to the iPad cases and laptop sleeves, abstract art is a natural choice for posters, pillows and other items for the home.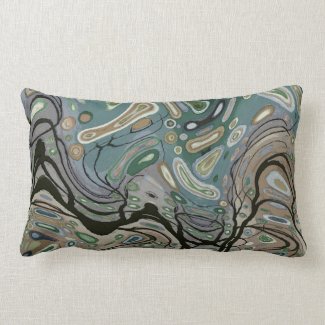 Wind - Abstract Art Pillow
by
MyOtherPlanet
I'm not sure if it's supposed to, but the swirling design on this one reminds me of oil on water :-)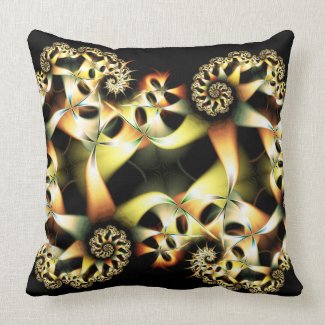 Fiesta Throw Pillow
by
SophieLerlei
This pillow just seems like a happy pillow. In fact, the color scheme would look great on my own sofa!
This pillow features a design that resembles a mix between a butterfly and a flower in grey and steel-blue colors.
The golden orbs and lines on the dark background make me think more of the night sky than the spiders in the title of this piece by vilhei.
While many abstracts are obviously digital (like the ones I created), I think this one is an actual painting. Hand painted, or digital, I like the effects.

I hope you have enjoyed this brief foray into the world of abstract art and design. I'm certainly going to play in the genre some more and see what I can create!


Now it's your turn. If you're a designer or artist on Zazzle, you're invited to link to your abstract designs in the Linky tool below. Use Option 1 in the Link Widget on the page of the Zazzle product/design you'd like to add. It will show up below as a small thumbnail and when clicked on, will link directly to your product.