Mother's Day in England is already behind us for the year, but in the U.S., it will be on Sunday, May 8th.
I've been working on some matching sets for Mother's Day, including greeting cards, address labels and postage stamps.
* * * *
The first features a hummingbird and fuchsia bloom that I photographed on our patio. The background was very unappealing - the blank brick wall of my neighbor's house - so instead, I added a texture in a soft mint color.
* * * *
The next set features a digital artwork I created in the 3D graphics program Vue, entitled "Field of Bluebonnets".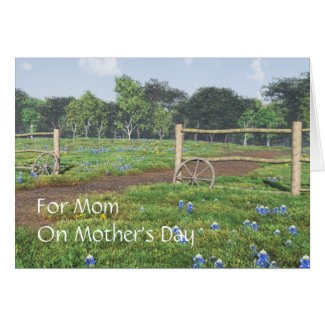 * * * *
The photograph featured in this Mother's Day card was taken by my at Kalalau Lookout on the Na Pali Coast on the island of Kauai when my husband and I were on our honeymoon. We were so lucky to see this rainbow. Even as we stood taking photographs, the mists cleared and the rainbow disappeared! It was truly the photo of a lifetime!

* * * *
I enjoy working out in my back yard and am often trying out new plants to see what I can get to bloom. I loved this purple and lilac Aquilegia, or Columbine but alas it wasn't too happy in my garden and didn't last long.
When I made this card with my photo, it made me determined to try and grow some more this year! Such pretty blooms!
* * * *
There are some wonderful designers on Zazzle and I had fun browsing through the Mother's Day cards available. I'm going to show you some of them here.
The first is this pretty watercolor floral Mother's Day card from 'origamiprints'. What I particularly like about the design is that you can replace the sample image with a photo of your own family, making it a very personal gift.
* * * *
Here is another design, that can be customized with your own photos, this one from 'DreamingMindCards'. Mom will really love this card when it features photos of her own children.
* * * *
I love this final card for it's simple message -- Moms can take the place of many people in our lives, friend, teacher, carer, confidante... but no-one can take the place of mom!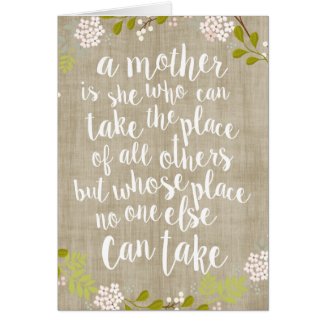 Happy Mother's Day Burlap Garden Floral Card
by
kat_parrella
Create
personalized cards
online at Zazzle.
* * * *
I could continue, there are literally thousands of Mother's Day card designs but it's your turn now.