I woke up about 4 am yesterday. At first I wondered what had woken me up, then I heard something outside -- an owl hooting! It was quickly answered by another and so the conversation went back and forth between them.
I love owls, there's something so mysterious about them, and I especially love that we can hear them here at night sometimes. I peeked through the window but couldn't see anything in the dark, so then I crept out on the patio. Straining my eyes in the direction of the sounds (they sounded quite close) I was finally able to make out dark shapes on the top of electric poles along the street behind our house.
They were probably scanning the fields on the other side of the road for mice and other prey. I listened to them for several minutes and then their hoots started getting further away as they flew silently across the fields.
Did I mention I love owls? Check out this macrame owl I made for our patio earlier this year. Remember these from the 70's? My mum in England still had one I made for her and after a visit to England in spring, I decided I needed to make my own.
Not bad, if I say so myself! Especially considering I did it without a pattern, just sort of designing as I went. :-)
Anyway, I thought I'd indulge my love of owls and see what designs and products my fellow Zazzle artists have created. Here are just a few, then you'll have a chance to add your own.
I like to think the owls we hear are Great Horned Owls. To me, they are the quintessential owl with their big eyes and those ear tufts.
This postcard from Critterpainter shows a Great Horned Owl sitting on a branch - check out those talons!
This pen and ink drawing by Wildlife Inc. really captures the essence of the Great Horned Owl. He looks as if he might be sizing me up for dinner!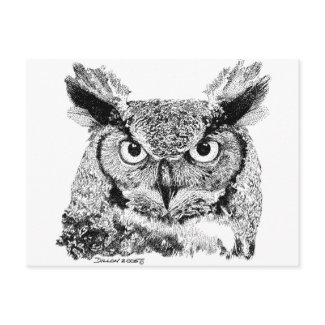 Horned Owl Post Card
by
WildlifeInk
Browse
Owl Postcards
So, too, does the owl in this poster from PhotographieBy Pixie. What an incredible shot!
Owl Eyes Poster
by
PhotographyByPixie
Browse
Owl Posters
There are many different species of owl and I love this card with John Audobon's illustration of a Great Gray Owl, from VintagePets. I've always admired the stunning detail in Audobon's work.
At the other end of the size spectrum from the Great Grey Owl is the Northern Saw-Whet Owl. This postcard features a beautiful watercolor painting of an adorable little Saw-Whet owl by Renee Fukumoto.
Sawhet Owl Watercolour Postcard
by
ReneeFukumoto
Browse other
Owl Postcards
Stylized owls have always been popular in art and for home accents - like the macrame owl I showed at the beginning of my post.
Here are some more examples of stylized owls from the Zazzle community.
Owls seem to fit quite nicely on iPhone cases, as seen in the examples below:
Owls are popular on cards and invitations, as you can see from the selection below.
Owl Nest in a Spring Tree Custom Invitations
by
amykaren
Browse other
custom printed invites
on zazzle
I thought I'd finish up with another of my favorite owls - the Barn Owl, this time on a stamp.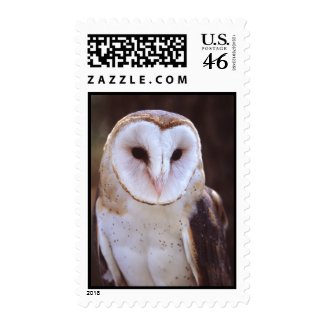 owl stamp
by
WorldDesign
Browse other
Animal lover Stamps
Now it's your turn. If you are a Zazzle designer, you are invited to link to your owl themed designs in the Linky tool below. Use Option 1 in the Link Widget on the page of the Zazzle product/design you'd like to add. It will show up below as a small thumbnail and when clicked on, will link directly to your product.