I am a horse lover. I was one of those pony mad kids who couldn't walk anywhere without jogging sideways and making strange whinneying noises and snorts like a badly behaved and spirited horse.
I lived and breathed horses from age 8 onwards. I didn't actually get a horse of my own until I was in my 30's and was living in the U.S. Little did I know when I bought my bay Thoroughbred gelding, Annapolis, in 1988, he would still be with me 24 years later!
In that time we've had some wonderful times, some success in the show ring, pleasant trail rides and just quiet time together. Annapolis outlasted two ex-husbands!
Around 2000, Star came into my life. She's a black Percheron, a draft horse, built for plowing fields or pulling wagons. As it is, she's never done a day's work in her life and now her sole purpose is to provide companionship for Annapolis, now 33.
Star and Annapolis are inseparable.
The reason I'm telling you this is by way of introduction for the various equine-themed pieces I have created since I've been on Zazzle.
I have an ever-growing range of items in my "Gifts for Horselovers" category.
Wise Grey Mare Mouse pad
by
3DDesignsByJayne
Create your own mousepad
online at Zazzle.
The first thing I made was this mouse pad featuring a grey mare. Look closely -- that's NOT a photograph. It's a digital artwork that I created in DAZ 3D!! I also made a tile, gift box and an iPad case using this image, and of course it's available as a framed print as well.
Draft Horse Plate
by
3DDesignsByJayne
Browse more
Draft horses Plates
Unlike the grey mare mouse pad, this draft horse plate is created with a photo. I included it in my store because I just loved the photo of my mare, Star (on the right) meeting Donin, the resident at the new farm I moved my horses to the year this was taken.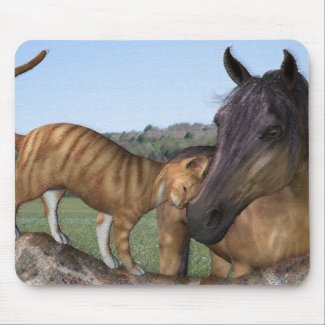 Horse and Cat Mousepad - Love Thy Neigh-Purr
by
3DDesignsByJayne
Order
custom made mouse pads
at zazzle.com.
This mousepad, with the cat and the horse, was inspired by an article I saw in a newspaper several years ago. In Australia, a man had a mare that was known for being bad tempered. She pinned her ears and bared her teeth whenever anyone went near her. Then one day, an old ginger tom cat showed up in her field. She was fascinated and she and the cat very quickly became good friends. It was like she became a different horse. She was not only friendly with the cat, but her whole personality changed. She became a much sweeter-natured horse and much easier to be around.
This image was also created in DAZ 3D, but I put the resulting render through the "rough pastel" artistic filter in my trusty Photoshop Elements (can you believe I'm still on version 4?)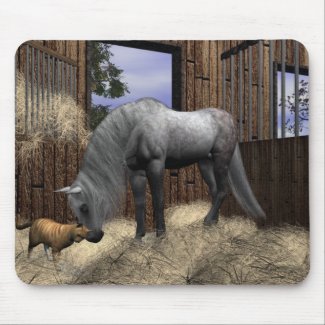 Quiet Companions Mousepad
by
3DDesignsByJayne
View other
Cat Mousepads
Continuing with the cat and horse theme I created this image about 5 years ago, when I was still working in Bryce 3D. (Did I mention I love cats too -- we have twelve cats now, after taking in a cat and her four kittens the summer before last.)
Galloping Paint Horses Lumbar Pillow
by
3DDesignsByJayne
Browse other
throw pillow
designs on Zazzle.
This is my most recent horse-themed design. I called the render "Run Like the Wind" and this design is available on mousepads, iPad sleeves, laptop bags, mugs, pitchers, you name it! I was so happy with the way it came out!
There is a wealth of equine art and horse-themed designs on Zazzle. Below is just a small selection.

This design, from earthwindhorses, won Today's Best on November 19, 2008. I'd love it if one of my designs could win Today's Best one day!
Heart by Liz Mitten Ryan Poster
by
earthwindhorses
View other
Horse Posters
Annapolis and I won a few ribbons at lower level dressage shows back in the day, so I was really drawn to this poster of a dressage horse from Stephanie Come-Ryker.
As I mentioned up above, my own draft horse, Star, has never worked a day in her 20 yrs but I love this poster of working Clydesdales in their harness by designer Kelli Swan.
Clydesdale Draft Horse Team Print
by
KelliSwan
Get the best
custom poster printing
at zazzle.com.
What kid didn't love the Black Stallion? I know I did and this poster, from Vector Graphics really invokes the wild and free spirit of the Black Stallion.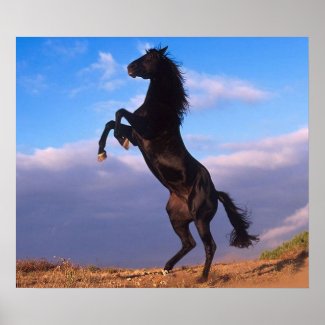 Black Stallion Poster
by
VectorGraphics
View more
Horse Posters
*******************
Anyway, I could go on and on... but now it's your turn.
If you are a Zazzle artist or designer, you're invited to link to your equine and equestrian themed designs in the Linky tool below. Use Option 1 in the Link Widget on the page of the Zazzle product/design you'd like to add. It will show up below as a small thumbnail and when clicked on, will link directly to your product.