It's hard to believe Christmas is just around the corner! Are you ready for the holidays? I suppose I'm about as ready as I'm going to be for this year. I had sort of wanted to get more stuff done for my Zazzle store, but you know how it goes... day job gets in the way... life happens...
So just a short post from me today. One thing I was able to do was get some Christmas ornaments in my Zazzle store. Here's one of them - with a beautiful Red Cardinal, one of my favorite birds.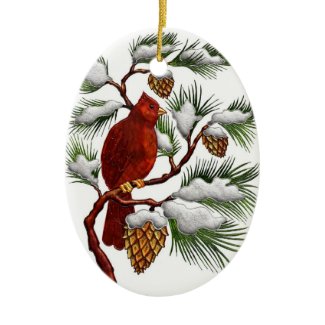 Red Cardinal with Pine Cones Christmas Ornament
by
3DDesignsByJayne
Shop for Christmas Ornaments online at
Zazzle.com
And here it is on our Christmas tree this year.
Here's another one - I love these little snowflakes.
Now it's your turn. If you are a designer on Zazzle, you are invited to add a link to your ornaments in the Linky Tool below.
Use Option 1 in the Link Widget on the page of the Zazzle product/design you'd like to add. It will show up below as a small thumbnail and when clicked on, will link directly to your product.