In 2007, my husband and I were married just outside of Honolulu, on the island of Oahu. Then we hopped a plane for our honeymoon on the island of Kauai.
It was the most incredible trip and I took tons of photographs, some of which I'm going add to my Zazzle store as posters and postcards etc.
This past weekend, I was going through the photos from our honeymoon and came across a photo of a rainbow in the clouds at
Kalalau lookout
, on the Na Pali coast.
It's a spectacular location offering views of steep cliffs and the sea some 4,000 ft below. As we stood at the lookout, we were lucky enough to see this beautiful rainbow as the shone refracted off the water droplets in the mist.
The group of loud, obnoxious tourists who got to the lookout about five minutes after we did saw nothing, as the clouds had closed in and completely blanketed the area.
I admit I had to suppress a little smirk as we walked past them on our way back to the parking lot!
I also used the same photograph to create a postcard and this matching postage.
Kalalau Rainbow Postage
by
3DDesignsByJayne
Browse more
Rainbow Stamps
Below are some more rainbow postcards from Zazzle artists, including this spectacular double rainbow in Montana, from Zazzle designer pageandturner.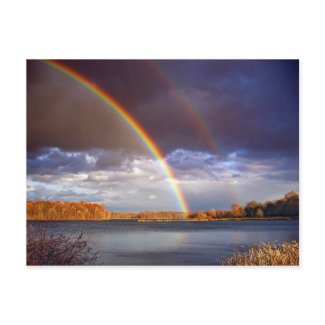 Double Bows Post Card
by
pageandturner
Browse more
Rainbow Postcards
And here's another double rainbow, this time from designer beckbeck221. I always seem to see double rainbows when I'm driving or when I have no camera. Why is that?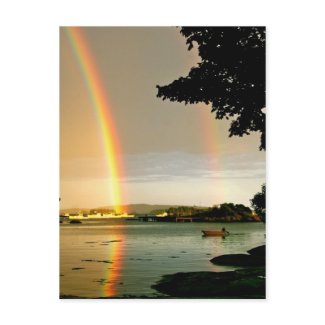 Postcard Double Rainbow Over Water
by
beckbeck221
View more
Maine Postcards
In addition to actual photographs of rainbows, some designers have used rainbow colored patterns in their designs, like this abstract rainbow poster by abbeyz71.
Rainbows also feature prominently in fantasy art, such as this beautiful Unicorn of the Rainbow Art Poster by romanceworks.
And finally, if you're an animal lover like me, you can't look at a rainbow without thinking of the beautiful poem, Rainbow Bridge. This poster from Absoluteinspirations can be customized with your pet's name.