A few weeks ago, I wanted to create a 3D scene in Vue that I could use for Easter products. After struggling to get the exact scene I wanted all in Vue, I ended up doing a mixed media piece.
I started out by rendering a scene with a cluster of Easter eggs, nestled in some long grass and dandelions, with a background of tree-lined fields, and a nice hazy spring atmosphere.
Once the render was complete, I opened the resulting image file in Photoshop Elements, created a new layer and added a sweet Easter bunny, which is a png file from Bez Boardman and Antje Darling's ABC's Hi-5 Springtime kit at Renderosity. I'm really happy with the resulting image and have used it on cards, postcards, gift boxes and even this plate.
Another item in my Easter line is this sweet card with an Easter chick and eggs.
*****
There are many Easter designs on Zazzle, ranging from cute Easter bunnies and Easter eggs for the kids, to spiritual designs like the one below.

The beautiful card above, from biblegifts316, reminds us of the true meaning of Easter while the lovely stamp below, from deemac1, features an iconic Easter scene.
Vintage designs are popular, such as this one featuring an Easter chick and the greeting "Welcome Easter Morning" by forbes1954.
Some are postcards, like this lovely one of a well-dressed Easter bunny decorating Easter eggs from easterfun which can be mailed or framed and displayed as artwork.
If your children are going Easter egg hunting this year, make sure they're well equipped with a tote bag for their treasures, like this one from DoodlesHolidayGifts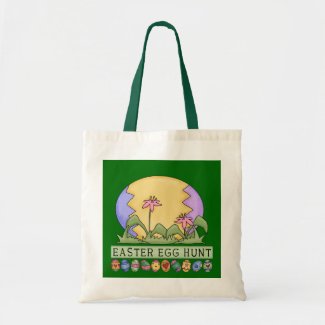 Easter Egg Hunt tote bag
by
DoodlesHolidayGifts
Find other Easter Bags at
zazzle.com
I'm going to finish with this lovely symbol of Easter, the Easter Lily. I love the white the white lily stands out against the green leaves and background on this card from catherinesherman.
Now it's your turn. If you are a designer on Zazzle you are invited to add a link to your Easter themed designs in the Linky Tool below. Use Option 1 in the Link Widget on the page of the Zazzle product/design you'd like to add. It will show up below as a small thumbnail and when clicked on, will link directly to your product.